Solid Documents has participated with PDF/A Competence Center in the process of coming up with a standardized way to test the compliance of PDF/A validators and converters. The aim of the PDF/A Competence Center is to promote the exchange of information and experience in the area of long-term archiving in accordance with ISO 19005: PDF/A.

Why PDF/A is Great for Archival

PDF documents are very flexible and can contain many different kinds of information and formatting. However, while some features are required for the accurate archival of documents, others are not ideal for this purpose.

Converting PDF documents to PDF/A and validating them for the ISO 19005-1 specification is needed to help ensure that they will display and function the same way in the future as they do today.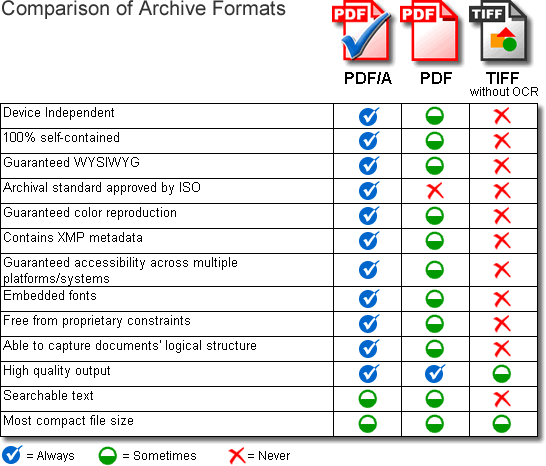 Many Organizations Use PDF/A Files to Archive Documents

"PDF/A-1 files facilitate compliance ... for transfers of permanent records in PDF"
- NARA (US National Archives and Records Administration)

"Since September 2005, PDF / A is a stable, internationally accepted ISO standard for long-term archiving." Translated from German.
- The University of Potsdam